PRODUCTS AND USES
Historically the main end use of sisal fibre has been for the manufacture of agricultural twine, general cordage and sacks. With increased competition from synthetic fibres, such use has, over the past 40 years, diminished particularly for East African sisal. East African sisal is generally produced on organised estates using water fed decorticators with the result that fibre quality is generally higher than that produced in South America.
In recent years there has been an increasing demand for East African sisal fibre from outside the traditional cordage and bag markets. Important uses for quality REA Vipingo sisal fibre now include high quality sisal carpets, buffing cloth for various industrial polishing applications, sisal pulp for use in the manufacture of speciality papers, cores for wire ropes, dartboards and various handicraft usages. In addition, a large market has developed in a number of countries for building products including plaster reinforcement.
The group pays considerable attention to grading and quality control at all stages in the processing of its sisal with the result that fibre produced from REA Vipingo estates is recognised worldwide for its consistent high quality.
The Group produces all the main grades of African sisal, including the now rarely produced grade No.1. Other grades of sisal available from REA Vipingo are:
No.2
3L (3 Long)
No.3 (3 short)
UG
SSUG
Tow 1
The Group produces sisal for export in 100 kgs, 200 kgs and 250 kgs bales.
The Amboni spinning mill produces sisal yarns and twines in the range of 150 mm to 900 metres per kilogram and sisal ropes in the range of 5 mm to 40 mm for the international market.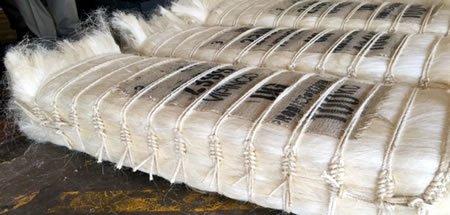 100 Kgs bales of high quality Vipingo fibre ready for export.

Our Products

Sisal in East Africa

Sisal Plant & Fibre Extraction
Previous page